HOURLY PIVOT POINT INDICATORS, DAILY PIVOT POINT INDICATORS, WEEKLY PIVOT POINT INDICATORS, BI-WEEKLY PIVOT POINT INDICATORS, MONTHLY PIVOT POINT INDICATORS, QUARTERLY PIVOT POINT INDICATORS, BI-QUARTERLY PIVOT POINT INDICATORS, ANNUAL PIVOT POINT INDICATORS, CONGRESSIONAL CYCLE PIVOT POINT INDICATORS, PRESIDENTIAL CYCLE PIVOT POINT INDICATORS

S&P500 SPY ETF AND /ES EMINI FUTURES - INSIDE THE QUARTERLY TIME CYCLE PIVOT POINT INDICATORS
1:00PM EDST UPDATE
https://tos.mx/gyCtVkd
https://tos.mx/faSOULS
https://tos.mx/KSQmSW7
https://tos.mx/3cpcDy5
https://tos.mx/Hc15fHt
2QEV EBP
https://tos.mx/i1zR3h6
QEV EBP
https://tos.mx/hXrSKgS
AEV EBP

https://tos.mx/M1nBLw3
CFP
https://tos.mx/cM0PJZI
CFD
https://tos.mx/M6fc5x3
FPRV SPY Wed P452
https://tos.mx/b6DyXZv

3:55PM ET USA UPDATE
https://tos.mx/bnrvpzI
WEDNESDAY MORNING PRE-MARKET, 9/1/21 8:15AM ET USA UPDATE
https://tos.mx/QsCWTQ6
8:15AM
https://tos.mx/PNWhJ0e
http://tos.mx/Jc0t9t1
KEY INTRADAY PIVOT POINT PROJECTION CONSTRUCTION SESSION SSOI FRAMECHARTS
2:45PM UPDATE POST SSOI FIOP COMPLETION FRAMES SHOWING SETUP 2ON 4H3V 12 OCLOCK HOUR (12:30 KEY HORIZONTAL INFLECTION POINT), WITH KEY TCEV CCW ROTATION AND 2ND HALF OF BB RALLY EXTENSION (IN CCW ROTATION TO LONG SLOPEMO TRAJ), WITH POST 1PM COMPLETION TARGET OFF MORNING OPENING RALLY HIGH... WITH ENSUING FORECAST SELLOFF AND FPRV FORWARD FRAMING ALSO INCLUDED IN KEY GREEN REFLECTION TRAJECTORY VECTOR CFEV FORWARD SQUARING INDICATORS.
https://tos.mx/Bpog7l3 fcrv Wc542 rider vehicle indicator framing...on fiop ssoi framing for afternoon selldown after late morning bounceback rally...
3:03PM
https://tos.mx/tgPZ2uR
3:17PM
https://tos.mx/0uM24yb

https://tos.mx/BUmjnEi fprv Wp454 rider vehicle indicator framing for ensuing 1pm+ hour target selloff affter bb c452 high target met.. .

3:20PM
https://tos.mx/3t329W0
3:23PM
https://tos.mx/Bn3wN6i
TO ENLARGE AND FURTHER ZOOM 'TODAY'S TOMORROW TRADER'S EDGE PIVOT POINT INDICATOR FOCUS FORECAST FRAMECHART SNAPSHOTS
(1) RIGHT CLICK ON THE PROVIDED SNAPSHOT AND 'OPEN IMAGE IN NEW TAB, AND THEN LEFT CLICK ON THE PLUS MAGNIFIER, OR
(2) LEFT CLICK ON THE PROVIDED SNAPSHOT LINK, THEN LEFT CLICK ON THE SNAPSHOT TO ENLARGE, THEN RIGHT CLICK TO FIND 'OPEN IMAGE IN NEW TAB' AND LEFT CLICK, THEN LEFT CLICK THE ZOOM MAGNIFIER
echovectorvest.blogspot.com market-pivots.com marketpivotpoints.com marketpivots.net
*THIS POST MAY INCLUDE POST MASTERS AND POST DOCTORAL LEVEL EDUCATIONAL AND DISSERTATIVE INFORMATION, AND PROFESSORIAL TUTORIAL CONTEXTING AND REFERENCING, WITHIN THE TECHNICAL FIELDS OF MARKET BEHAVIORAL ECONOMICS, FINANCIAL MARKET PIVOTS TECHNICAL ANALYSIS, AND ADVANCED FINANCIAL PHYSICS, DISSEMITATIVELY.
___________________________________________________________________________________

PIVOT POINT CALCULATION AND CONSTRUCTION SESSION
ILLUSTRATING THE TIME CYCLE PIVOT POINT INDICATORS AND THEIR KEY SREV CFEV 'S AND R' SUPPORT/RESISTANCE PIVOT POINT PRICE PROJECTION VECTORS

S&P500 SPY ETF PIVOT POINTS INDICATOR - ANNUAL AND SUBSUMPTIVE TIME CYCLE PIVOT POINTS IMPLICATIONS AND THEIR ASSOCIATED ECHOBACKPERIODS AND COORDINATE FORECAST SUPPORT AND RESISTANCE VECTORS (CFEVs, SREVs) HIGHLIGHTED AND ILLUSTRATED - DAILY CANDLES
PRESENTED BY THE PRECISION PIVOTS GLOBAL FINANCIAL MARKETS LABORATORY!
================================================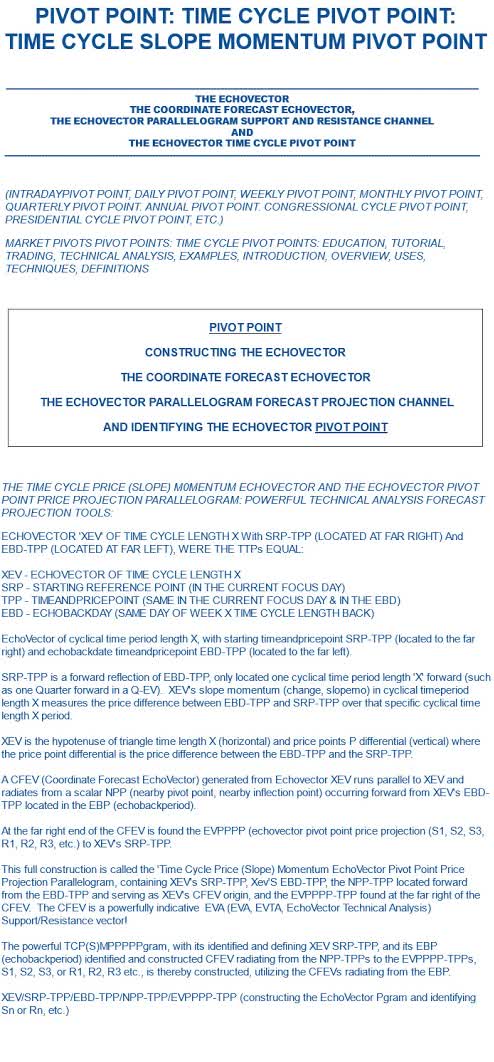 THE TIME CYCLE PRICE (SLOPE) MOMENTUM ECHOVECTOR AND ECHOVECTOR PIVOT POINT PRICE PROJECTION PARALLELOGRAM:
POWERFUL TECHNICAL ANALYSIS FORECAST PROJECTION TOOLS:
ECHOVECTOR XEV OF TIME CYCLE LENGTH X With SRP-TPP (LOCATED ON FAR RIGHT) And EBD-TPP (LOCATED ON FAR FAR LEFT).
XEV - ECHOVECTOR OF TIME CYCLE LENGTH X
SRP - STARTING REFERENCE POINT (IN CURRENT FOCUS DAY)
TPP - TIMEANDPRICEPOINT (IN CURRENT FOCUS DAY & EBD)
EBD - ECHOBACKDATE (SAME DAY OF WEEK, X TIME CYCLE LENGTH BACK)
EchoVector of cyclical time period length X, with starting timeandpricepoint SRP-TPP (to the far right) and echobackdate timeandpricepoint EBD-TPP (to the far left).
SRP-TPP is a forward reflection of EBD-TPP, only located one cyclical time period length 'X' forward (such as one Quarter forward in a Q-EV). XEV's slope momentum (change, slopemo) in cyclical time period length X measures the price difference between EBD-TPP and SRP-TPP over that specific cyclical time length X period.
XEV is the hypotenuse of triangle time length X (horizontal) and price points P differential (vertical) where the price point differential is the price difference between the EBD-TPP and the SRP-TPP.
A CFEV (Coordinate Forecast EchoVector) generated from EchoVector XEV runs parallel to XEV and radiates from a scalar NPP (nearby pivot point, nearby inflection point) occurring forward from XEV's EBD-TPP located in the EBP (echobackperiod).
At the far right end of the CFEV is found the EVPPPP (EchoVector Pivot Point Price Projection (S1, S2, S3, S4, R1, R2, R3, R4, etc.) to XEV's SRP-TPP.
This full construction is called the 'Time Cycle Price (Slope) Momentum EchoVector Pivot Point Price Projection Parallelogram, containing XEV's SRP-TPP, Xev'S EBD-TPP, the NPP-TPP located forward from the EBD-TPP and serving as XEV's CFEV origin, and the EVPPPP-TPP found at the far right of the CFEV.
The CFEV is a powerfully indicative EVA Support/Resistance vector! The powerful TCPSMPPPPPgram, with its identified and defining XEV SRP-TPP, and its EBP (echobackperiod) identified and constructed CFEV, radiating from the NPP-TPPs to the EVPPPP-TPPs, (S1, S2, S3, S4, R1, R2, R3, R4, etc.), is thereby constructed.
XEV SRP-TPP/EBD-TPP/NPP-TPP/EVPPPP-TPP (Sn Or Rn)
---------------------------------------------------------------------------
SHORTHAND ABBREVIATIONS - ALGO REFERENCES
---------------------------------------------------------------------------
P - price
EV - echovector
XEV - echovector of time cycle length X (and slope momentum delta p over delta x)
SRP - echovector starting reference time/price point (its far right point)
WEV - one week lengthed Echovector, Weekly
PCEV - 4 year lengthed echovector, Presidential Cycle Echovector
H - hourly, M - monthly, Q - quarterly, A - annual, CC - 2 year Congressional Cycle length
4HEV - 4 hour lengthed echovector
TP - timepoint, time premium in reference to option RVs
TPP - time and price point along a slope momentum echovector
EBP - echovector echobackperiod
EBD - echovector echobackday
EBDTPP - echobackdate timeandpricepoint (the far left point along a slope momentum echovector, x length from the SRP. The SRP is the EBD TPP reflection X cycle length forward)
NPP - nearby forward pivot point from the echobackday tpp
CFEV - EVA coordinate forecast projection echovector
PGRAM - EVA time cycle pivot point price projection parallelogram support and resistance channel
EVA - EchoVector Analysis
EVTA - EchoVector Financial Markets Technical Analysis
----------------------ALPHABETICAL----------------------
AMPEX - amplified price extension vector from correlate in ebp
B - broadcast, broadcasting
BB - bounce back
BTV - EVA breakthrough vector, YELLOW SPACED
BT - breakthrough
C - call option
CC - counter-clockwise echovector rotation
CFD, CFW - echovector current focus day, current focus week
CHMK - EVA Checkmark Pattern
CL - closing tradeblock low
CD30M - closing tradeblock end less 30 minutes
CPI - consumer price index
CRV - call rider vehicle, esoteric basket, hedge insurance instrument
CW - clockwise echovector rotation
DC - bounce with no sustaining quality, and setting up lower low.
DBOX - EVA diamond box pattern
DERIV - derivative, option, esoteric, future
DIA - dow30 index etf
DOM - depth of market
DP - price downpressure
D30 - dow jones 30 industrials composite index
E - echo
EQUIL - EVA equilibration
/ES - sp500 emini futures
ESO - esoteric, derivative, option basket, weeklys
FCRUM - fulcrum hour/period
FIOP - EVA focus interest opportunity period
FRI - Friday
FRV - focus rider vehicle basket, fcrv focus call rider vehical, fprv focus put rider vehicle
FSE - Frankfurt SE
GREV - EVA global rotation echovector
H - high (often price high, referring to a candle or TB)
HOR - horizontal, horizontal pivot point vector
HSE - Hong Kong SE
ID - identified, designated,
IDR - intraday reversal
INTD - Intraday
INTERD - interday or interweek or intermonth or interperiod
INTRA - intraday
I/O Box- eva price/time inside/outside forecast projection risk management reference action box, zoomed scalar spot
JAJO - January April July October Quarterly Cycle Phase
KR - key reversal
LB - long bias
LOAD - high volume supply at price level
LSE - London SE
M - minute
MMS - market makers
MOMO - momentum, momentum period, 2nd derivative momentum top
MORN - morning
MTB - MainTradeBlock
NL - net short
NPA - not presently available
O - OPEN, OPENING
OBV - on balance volume
OH - opening tradeblock high
OL - opening tradeblock low
OPT - option, options
OOTM - out of the money option
OTAPS - EVA otaps signal vector application (Advanced straddle basket application - Google)
P - put Option
PAR - par, parity
PEB - price equivalency basis
PFP - EVA powerful forecast projection
P'GRAM - time cycle echovector pivot point price projection parallelogram
PNLOP - potential net log opportunity period
PRESS - pressure, intraday press to find intermediate wave price level floor or ceiling
POT - pressure on/off tape
PPROG - programmed, pre-programmed
PRE - before, premium
PR - key scalar related price run (extension[s]) after related origin inflection point reference.
PRV - put rider vehicle, esoteric basket, hedge insurance instrument
PV,OPV - pointer vector. Price of option points to value of underlying at time of expiration. Vector pointing there from underlying's price at time of option exchange print price quote.
QQQ - nasdaq 100 etf
R - resistance
REM - remember
REPO - repositioning, rolling into new or updated position complex
REV - reversal
REX - reduced price extension vector from correlate in ebp
RMH - regular market hours
RMHC - regular market hours close
RMHO - regular market hours open
RNR - forecast-ed move underway dramatically
ROT - right on target, echovector rotation
RS - relative price strength
RW - relative price Weakness
RWS - relative weakness inflection points or periods
RV - options rider vehicle basket
S,SUP - support
SIG - signal, significant
SLOPMO - price vector slope momentum
SP - spaced
SPY - sp500 index etf
S/R - support/resistance
SS - scenario setup
ST - short term
SYMTRA - symmetry transpostiion
T - tickTB - tradeblock
TCPSM - time cycle price (slope) momentum
THO - though
TRAJ - price trajectory of xev, cfev, npp vector, otaps vector, options pointer vector, slopemo vector
TSE - Tokyo Stock Exchange
TT - teeter totter
TUES - Tuesday
UP - price up-pressure
UW - upwave
USM - NYSE & CBOE Etc
WKLY - weekly
WWW - EVA Wilbur Winged W Pattern
YEL - yellow> - then or greater than
----------------------------------------------------------------------------------------------------------------------------------------

POSTING UPDATES FROM - MARKETPIVOTSTV SP500TV AND OPTIONPIVOTSLIVE (OPL)

A PORTION OF THIS WEEK'S KEY POWERFUL FORWARD EVTAA EDUCATIONAL CONTEXTING/FRAMING...
SP500TV OPL TUTORIAL NARRATIVE BIAS PRESENTED AND FULFILLED!
POWERFUL EVTA CONTEXTING - TUTORIAL FORECASTS PROJECTION SCIENCE NOW PROVIDED FREE ONLINE!
----------------------------------------------------------------------------------------------------------------------------------------
THANKING THIS MONTH'S APPRECIATED SPONSOR
POWERTRADESTATONS AND POWERTRADESTATIONSGLOBAL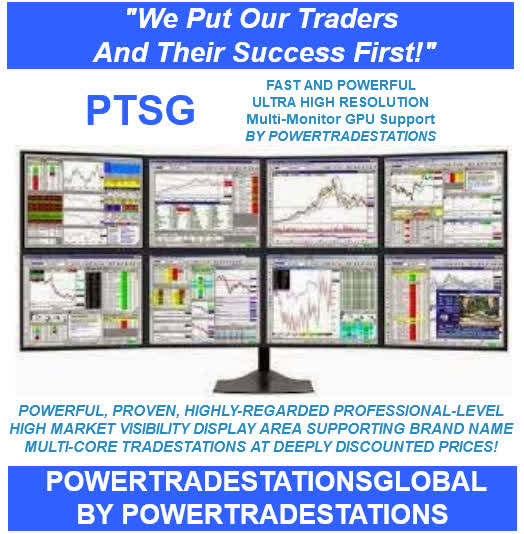 BE SURE LOOK FOR THE POWERTRADESTATION IMPRIMATUR ON EACH TRADING COMPUTER LISTING TO MAKE SURE YOU ARE PURCHASING A GENUINE POWERTRADESTATION!
"We Put Our Traders And Their Success First!"
POWERTRADESTATONS AND POWERTRADESTATIONSGLOBAL
"Experienced traders & trader technicians working with traders for traders to help enable traders & investors to make better trades!"
Striving to Provide Both Excellence & Economy In Proven Extended Market Visibility Supporting Financial Tradestations, To Help Our Traders Advance!"
Optimizing Intelligence, Performance And Price For Our Traders Globally!
DISCLAIMER: This post is for educational and informational purposes only. There can be significant risks involved with investing including loss of principal. There is no guarantee that the goals or the strategies and examples discussed will be achieved. NO content published by us on the Site, our Blogs, Newsletters, and any Social Media we engage in constitutes a recommendation that any particular investment strategy, security, portfolio of securities, or transaction is suitable for any specific person. Further understand that none of our bloggers, information providers, App providers, or their affiliates are advising you personally concerning the nature, potential, value or suitability of any particular security, portfolio of securities, transaction, investment strategy or other matter. Again, this post is for educational, informational, and entertainment purposes only. BEFORE MAKING ANY INVESTMENT DECISIONS WE STRONGLY ENCOURAGE YOU TO FIRST CONSULT WITH YOUR PERSONAL FINANCIAL ADVISER.
August 23, 2021 Update