PIVOT POINT INDICATORS, DAILY PIVOT POINT INDICATORS, WEEKLY PIVOT POINT INDICATORS, BI-WEEKLY PIVOT POINT INDICATORS, MONTHLY PIVOT POINT INDICATORS, QUARTERLY PIVOT POINT INDICATORS, BI-QUARTERLY PIVOT POINT INDICATORS, ANNUAL PIVOT POINT INDICATORS, CONGRESSIONAL CYCLE PIVOT POINT INDICATORS, PRESIDENTIAL CYCLE PIVOT POINT INDICATOR
S&P500 SPY ETF AND /ES EMINI FUTURES - INSIDE THE QUARTERLY TIME CYCLE PIVOT POINT INDICATORS
12:07AM EDT USA UPDATE
DAILY PIVOT POINT INDICATOR, 2 DAY PIVOT POINT INDICATOR, 3DAY PIVOT POINT INDICATOR, WEEKLY PIVOT POINT INDICATOR. TIME CYCLE PIVOT POINTS
5 MINUTE CANDLES
https://tos.mx/vouRsWV
DAILY PIVOT POINT INDICATORS - 1 MINUTE CANDLES
2-DAY PIVOT POINT INDICATORS - 1 MINUTE CANDLES
WEEKLY PIVOT POINT INDICATORS - 1 MINUTE CANDLES
https://tos.mx/YfdgG0g
.SPY211027C452 FPRV ESOTERIC

QUARTERLY PIVOT POINT INDICATORS - DAILY CANDLES
BI-MONTHLY PIVOT POINT INDICATORS - DAILY CANDLES
MONTHLY PIVOT POINT INDICATORS - DAILY CANDLES
https://tos.mx/GRYuDU4
ANNUAL PIVOT POINT INDICATORS - DAILY CANDLES
WITH SUBSUMPTIVE TIME CYCLE PIVOT POINT INDICATORS ALSO INCLUDED

https://tos.mx/Nug4Zlm
2-YEAR CONGRESSIONAL CYCLE PIVOT POINT INDICATORS - DAILY CANDLES
WITH SUBSUMPTIVE TIME CYCLE PIVOT POINT INDICATORS ALSO INCLUDED
https://tos.mx/pu7K3mV
2:44 EDT USA UPDATE (And Beyond)

https://tos.mx/rcmnh7u

https://tos.mx/3quujXj
https://tos.mx/hPooVWE
https://tos.mx/dPccdsC

https://tos.mx/IVRD7Jq
https://tos.mx/f7RZzIZ
TO ENLARGE AND FURTHER ZOOM 'TODAY'S TOMORROW TRADER'S EDGE' PIVOT POINT INDICATOR FOCUS FORECAST FRAMECHART SNAPSHOTS
(1) RIGHT CLICK ON THE PROVIDED SNAPSHOT AND 'OPEN IMAGE IN NEW TAB, AND THEN LEFT CLICK ON THE PLUS MAGNIFIER, OR
(2) LEFT CLICK ON THE PROVIDED SNAPSHOT LINK, THEN LEFT CLICK ON THE SNAPSHOT TO ENLARGE, THEN RIGHT CLICK TO FIND 'OPEN IMAGE IN NEW TAB' AND LEFT CLICK, THEN LEFT CLICK THE ZOOM MAGNIFIER
ADDENDUM: WEDNESDAY 10/13/21 10:00PM EDT USA UPDATE: ESOTERICS EXAMPLE

https://stocktwits.com/Market_Pivots/message/390886232
MARKET PIVOTS Pivot Points: TIME CYCLE PIVOT POINT PROJECTION INDICATORS: ACTIVE ADVANCED TUTORIAL PIVOT POINT PRICE PROJECTION IMPLICATIONS HIGHLIGHTED, W/ KEY OTAPS ALERTS IMPLIED FOR POTENTIALLY HIGHER MARKET ALPHA RETURNS. www.bestpivotpoints.com www.marketpivotpoints.com www.market-pivots.com

WEDNESDAY 10/13/21 10:00PM EDT USA UPDATE. S&P500 SPY ETF PUT OPTION ESOTERIC. MONTHLY, BIWEEKLY, WEEKLY SLOPE MOMENTUM PERSPECTIVES ILLUSTRATED FROM KEY TIME CYCLE ECHOVECTOR ECHOBACKPERIOD TIMEANDPRICEPOINTS (EVA-EBP-TPPs) 5 MINUTE CANDLES. LEFT CLICK ON FRAMECHART TO ZOOM. ADDITIONAL PORTABLE TOS "TODAY'S TOMORROW TRADER'S EDGE" PIVOT POINT INDICATORS & SCENARIO SETUP OPPORTUNITY FRAMECHARTS (FOR ACTIVE ADVANCED TUTORIAL MARKET INTELLIGENCE PREPARATION) AT THE MARKET PIVOTS FORECASTER https://echovectorvest.blogspot.com
Sponsored by POWERTRADESTATIONS at https://www.ebay.com/str/powertradestationsglobal.. "OPTIMIZING INTELLIGENCE, PERFORMANCE, AND PRICE FOR OUR TRADERS GLOBALLY. WE PUT OUR TRADERS AND THEIR SUCCESS FIRST!"
MONTHLY PIVOT POINT INDICATORS 5 MINUTE CANDLES
.SPY211015P345 FPRV ESOTERIC
https://tos.mx/0fmlE14

ADDENDUM
"Federal Reserve Bank FOMC Announcement Day, Wednesday July 28, 2021: The DIA ETF's Intraday Price Path Remarkably Echo's Last Quarter's April 28, 2021, FOMC Announcement Intraday Price Path!"
https://seekingalpha.com/instablog/993715-kevin-wilbur/5620689-federal-reserve-bank-fomc-announcement-day-wednesday-july-28-2021-dia-etfs-intraday-price
echovectorvest.blogspot.com market-pivots.com marketpivotpoints.com marketpivots.net
*THIS POST MAY INCLUDE POST MASTERS AND POST DOCTORAL LEVEL EDUCATIONAL AND DISSERTATIVE INFORMATION, AND PROFESSORIAL TUTORIAL CONTEXTING AND REFERENCING, WITHIN THE TECHNICAL FIELDS OF MARKET BEHAVIORAL ECONOMICS, FINANCIAL MARKET PIVOTS TECHNICAL ANALYSIS, AND ADVANCED FINANCIAL PHYSICS, DISSEMITATIVELY. _______________________________________________________________________________

PIVOT POINT CALCULATION AND CONSTRUCTION SESSION
ILLUSTRATING THE TIME CYCLE PIVOT POINT INDICATORS AND THEIR KEY SREV CFEV 'S AND R' SUPPORT/RESISTANCE PIVOT POINT PRICE PROJECTION VECTORS

S&P500 SPY ETF PIVOT POINTS INDICATOR - ANNUAL AND SUBSUMPTIVE TIME CYCLE PIVOT POINTS IMPLICATIONS AND THEIR ASSOCIATED ECHOBACKPERIODS AND COORDINATE FORECAST SUPPORT AND RESISTANCE VECTORS (CFEVs, SREVs) HIGHLIGHTED AND ILLUSTRATED - DAILY CANDLES
PRESENTED BY THE PRECISION PIVOTS GLOBAL FINANCIAL MARKETS LABORATORY!
===================================================================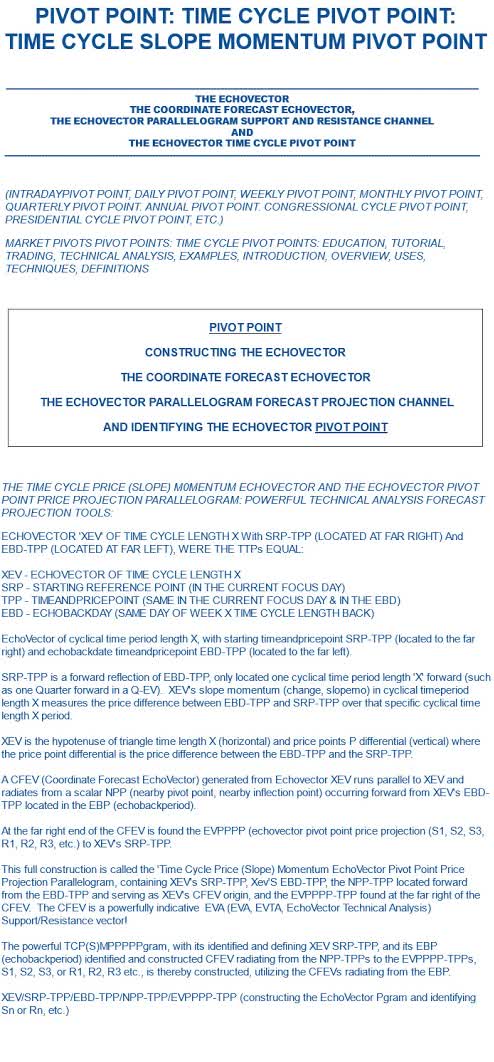 THE TIME CYCLE PRICE (SLOPE) MOMENTUM ECHOVECTOR AND ECHOVECTOR PIVOT POINT PRICE PROJECTION PARALLELOGRAM:
POWERFUL TECHNICAL ANALYSIS FORECAST PROJECTION TOOLS:
ECHOVECTOR XEV OF TIME CYCLE LENGTH X With SRP-TPP (LOCATED ON FAR RIGHT) And EBD-TPP (LOCATED ON FAR FAR LEFT).
XEV - ECHOVECTOR OF TIME CYCLE LENGTH X
SRP - STARTING REFERENCE POINT (IN CURRENT FOCUS DAY)
TPP - TIMEANDPRICEPOINT (IN CURRENT FOCUS DAY & EBD)
EBD - ECHOBACKDATE (SAME DAY OF WEEK, X TIME CYCLE LENGTH BACK)
EchoVector of cyclical time period length X, with starting timeandpricepoint SRP-TPP (to the far right) and echobackdate timeandpricepoint EBD-TPP (to the far left).
SRP-TPP is a forward reflection of EBD-TPP, only located one cyclical time period length 'X' forward (such as one Quarter forward in a Q-EV). XEV's slope momentum (change, slopemo) in cyclical time period length X measures the price difference between EBD-TPP and SRP-TPP over that specific cyclical time length X period.
XEV is the hypotenuse of triangle time length X (horizontal) and price points P differential (vertical) where the price point differential is the price difference between the EBD-TPP and the SRP-TPP.
A CFEV (Coordinate Forecast EchoVector) generated from EchoVector XEV runs parallel to XEV and radiates from a scalar NPP (nearby pivot point, nearby inflection point) occurring forward from XEV's EBD-TPP located in the EBP (echobackperiod).
At the far right end of the CFEV is found the EVPPPP (EchoVector Pivot Point Price Projection (S1, S2, S3, S4, R1, R2, R3, R4, etc.) to XEV's SRP-TPP.
This full construction is called the 'Time Cycle Price (Slope) Momentum EchoVector Pivot Point Price Projection Parallelogram, containing XEV's SRP-TPP, Xev'S EBD-TPP, the NPP-TPP located forward from the EBD-TPP and serving as XEV's CFEV origin, and the EVPPPP-TPP found at the far right of the CFEV.
The CFEV is a powerfully indicative EVA Support/Resistance vector! The powerful TCPSMPPPPPgram, with its identified and defining XEV SRP-TPP, and its EBP (echobackperiod) identified and constructed CFEV, radiating from the NPP-TPPs to the EVPPPP-TPPs, (S1, S2, S3, S4, R1, R2, R3, R4, etc.), is thereby constructed.
XEV SRP-TPP/EBD-TPP/NPP-TPP/EVPPPP-TPP (Sn Or Rn)

----------------------------------------------------------------------------------------------------------------------------------------

POSTING UPDATES FROM - MARKETPIVOTSTV SP500TV AND OPTIONPIVOTSLIVE (OPL)

A PORTION OF THIS WEEK'S KEY POWERFUL FORWARD EVTAA EDUCATIONAL CONTEXTING/FRAMING...
SP500TV OPL TUTORIAL NARRATIVE BIAS PRESENTED AND FULFILLED!
POWERFUL EVTA CONTEXTING - TUTORIAL FORECASTS PROJECTION SCIENCE NOW PROVIDED FREE ONLINE!
-----------------------------------------------------------------------------------------------------------------------------------------
THANKING THIS MONTH'S APPRECIATED SPONSOR
POWERTRADESTATONS AND POWERTRADESTATIONSGLOBAL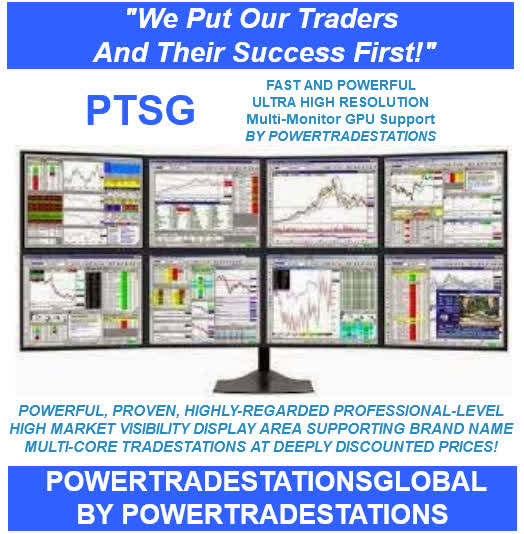 BE SURE LOOK FOR THE POWERTRADESTATION IMPRIMATUR IN EACH GENUINE POWERTRADESTATIONS TRADING COMPUTER LISTING TO MAKE SURE YOU ARE PURCHASING A GENUINE POWERTRADESTATION!
"We Put Our Traders And Their Success First!"
POWERTRADESTATONS AND POWERTRADESTATIONSGLOBAL
"Experienced traders & trader technicians working with traders for traders to help enable traders & investors to make better trades!"
Striving to Provide Both Excellence & Economy In Proven Extended Market Visibility Supporting Financial Tradestations, To Help Our Traders Advance!"
Optimizing Intelligence, Performance And Price For Our Traders Globally!
----------------------------------------------------------------------------------------------------------------------------------------------
DISCLAIMER: This post is for educational and informational purposes only. There can be significant risks involved with investing including loss of principal. There is no guarantee that the goals or the strategies and examples discussed will be achieved. NO content published by us on the Site, our Blogs, Newsletters, and any Social Media we engage in constitutes a recommendation that any particular investment strategy, security, portfolio of securities, or transaction is suitable for any specific person. Further understand that none of our bloggers, information providers, App providers, or their affiliates are advising you personally concerning the nature, potential, value or suitability of any particular security, portfolio of securities, transaction, investment strategy or other matter. Again, this post is for educational, informational, and entertainment purposes only. BEFORE MAKING ANY INVESTMENT DECISIONS WE STRONGLY ENCOURAGE YOU TO FIRST CONSULT WITH YOUR PERSONAL FINANCIAL ADVISER.
____________________________________________________________________________________

SEE PRIOR POSTS FOR ADDITIONAL CONTEXT FARMING, STUDY AND REVIEW ____________________________________________________________________________________
SPECIAL THANKS TO OUR SPONSORS

POWERTRADESTATIONS AND POWERTRADESTATIONSGLOBAL

BE SURE TO LOOK FOR THE POWERTRADESTATIONS IMPRIMATUR FEATURED BOLDLY IN EACH GENUINE POWERTRADESTATIONS LISTING!
=========================================================================

POWERTRADESTATIONSglobal

Better Systems, Better Prices...

Providing High Market Visibility And Superior Extended Visual Display Area Support For Active Advanced Financial Management and Trading!

HIGHLY ACCLAIMED * GLOBALLY RECOGNIZED * HIGHER QUALITY * MORE POWER * BETTER PRICES * LAUDED TRADER SUPPORT!

Striving to Provide Both Excellence & Economy In Proven Extended Market Visibility Supporting Financial Markets Tradestations, To Help Our Traders Advance!"

OPTIONS * FUTURES * FOREX * STOCK * BONDS * COMMODITIES * AND MORE!

"Optimizing Intelligence, Performance And Price For Our Traders Globally!"

"We put our traders and their success first!"
=========================================================================

EXAMPLES OF THIS MONTH'S FEATURED POWERTRADESTATIONS, NOW BEING PROVIDED AT STEEPLY DISCOUNTED PRICES DURING THIS YEAR'S SPECIAL SEASONAL SALES FOR OUR GLOBAL COMMUNITY OF ACTIVE ADVANCED VISUAL TECHNICAL ANALYSIS BASED PORTFOLIO MANAGERS, RISK MANAGERS, AND DAYTRADERS!